20 YARD DUMPSTER RENTAL GUIDE
Are you looking for a 20-yard dumpster rental? Follow Blue Steel Dumpster's complete guide below!
What Is A Dumpster Rental?
Roll-off containers or roll-off dumpsters are containers made out of metal and used to throw away large amounts of material. These dumpsters are typically used by remodelers, construction contractors, and demolition crews. After delivery of your roll-off container, you fill the dumpster and the supplier will haul it away.
Here are a few of the unique features of a roll-off dumpster:
Different size options.
Can be used for specific types of debris.
Wheels for easy movement overall.
Open tops for easy loading and offloading of waste.
Can be attached to special roll-off trucks.
If you're engaged on a considerable construction project or managing waste from a home renovation, the last step is the removal of the waste. Everyday businesses need a dedicated way of removing waste from their location.
Because of their size and mobility, dumpsters offers a convenient and safe way to remove debris before they it reach the landfill. In terms of the dumpster type, you have multiple options that differ by how they are loaded, the debris they hold, and how they get transported.
What Can You Use A 20 Yard Dumpster For?
A residential or commercial cleanout project involving one or two small rooms can generate the perfect amount of material to fill a 20 yard dumpster. This size is ideal for remodeling tasks, such as renovating a large room or removing flooring. A garden pathway project or driveway repair often call for a 20 yard dumpster, as well.
When in doubt, the experts always recommend rounding up to get the proper sized dumpster rental. It will cost significantly more to use a small dumpster twice than a large dumpster once.
What Does A 20 Yard Dumpster Rental Cost?
The average costs stated above are, of course, subject to change based on several factors. The exact cost of your dumpster rental can depend on your specific area and the type of debris you're planning on tossing in the container.
Additional charges could be applied for tonnage, overages, debris type, fuel surcharge, and late fees, depending on the roll-off dumpster provider. Always ask about any extra charges before renting a dumpster. Be sure to do your research for the best rental rates near you.
Here are the average costs of 20-yard dumpster rentals:
Lowest Cost: $268.
Average Cost: $461.
Highest Cost: $657.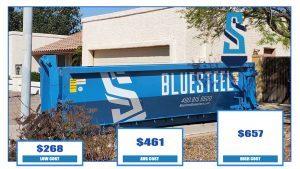 20 Yard Dumpster Dimensions
A typical 20-yard dumpster measures 22 feet long, 7.5 feet wide, and 4.5 feet high. While exterior dimensions will vary by manufacturer, the total volume will remain the same. These containers can hold up to 20 cubic yards of material. This is the equivalent of 110-130 33-gallon trash bags or a total of six pickup truck loads.
20-yard dumpsters usually hold between 2-3 tons of waste, which equals 4,000-6,000 pounds of material. Special-use containers for debris, such as concrete or dirt, have higher weight limits.
How To Rent A 20 Yard Dumpster In Phoenix
The process of renting a dumpster is quite simple. Start by calling or placing an online order through Blue Steel Dumpsters in Phoenix, AZ. Once your dumpster is delivered, you can fill the dumpster with your debris, trash, and junk. Once completed, Blue Steel Dumpsters will pick up your dumpster when you are ready.
Here is a checklist for any homeowner thinking about renting a dumpster. Follow these steps:
❒ Start by estimating the amount of waste you wish to dispose of.
❒ Choose the appropriate dumpster size.
❒ Get the necessary permit.
❒ Get a quote from Blue Steel Dumpsters.
❒Specify a rental period.
❒ Consider weight limits.
❒ DO NOT dispose of hazardous waste.
How To Save Money On A Dumpster Rental
Consider these things when making a decision on a rental:
Be as detailed as possible about the amount of material you plan to discard when talking to the rental company. This way, they can give you an accurate weight estimate.
Cover the dumpster with a tarpaulin to help avoid any extra weight due to potential rainfall. You may have to pay extra if your dumpster comes in over weight.
When in doubt, opt for the lager dumpster size. This will save you money on possible overages.
*These costs are nationwide estimates. Contact Blue Steel Dumpsters for a free quote today!
Blue Steel Roll-Off Dumpster Rentals In Phoenix, AZ
Blue Steel Roll Off Dumpsters is a Dumpster rental service company located in Phoenix, Arizona. We offer roll-off dumpster rentals for residential, commercial, and contractor projects at an affordable cost. Customers love working with us due to the seamless experience we are able to offer! Contact one of our customer service representatives to get a quote and discuss the size that suites your needs best!