What Is A Roll Off Dumpster?
Let's take a look at everything you need to know about roll-off dumpsters. This article will cover all types, costs, frequently asked questions, and details about these common dumpster rentals.
Roll-Off Dumpster Guide
Roll-off containers or roll-off dumpsters are containers made out of metal and used to throw away large amounts of material. These dumpsters are typically used by remodelers, construction contractors, and demolition crews. After delivery of your roll-off container, you fill the dumpster and the supplier will haul it away.
Here are a few of the unique features of a roll-off dumpster:
Different size options.
Can be used for specific types of debris.
Wheels for easy movement overall.
Open tops for easy loading and offloading of waste.
Can be attached to special roll-off trucks.
Types Of Roll-Off Dumpsters
If you're engaged on a considerable construction project or managing waste from a home renovation, the last step is the removal of the waste. Everyday businesses need a dedicated way of removing waste from their location.
Because of their size and mobility, dumpsters offers a convenient and safe way to remove debris before they it reach the landfill. In terms of the dumpster type, you have multiple options that differ by how they are loaded, the debris they hold, and how they get transported.
Construction Dumpster
A construction dumpster is the most typical container seen on construction project sites. These large, open-topped dumpsters can serve several purposes and are usually rented by companies or people on a limited basis.
Construction dumpsters are also referred to as roll-off dumpsters because of the wheels on the bottom that assist in hauling the containers away. Providing between ten and forty cubic yard capabilities, they are perfect solution for a wide range of clean-up projects, including building remodels, demolitions, roof removal, and landscaping waste.
There are also construction dumpsters intended for particular uses. A dirt dumpster can handle yard debris and soil compounds removal, whereas specific dumpsters are intended for handling pavers, asphalt, clean concrete, and brick.
Commercial Dumpster
These dumpsters are the normal containers you usually see at places like restaurants, Walgreens, parking lots, etc. These dumpsters are typically rented on a continuous basis and have routine scheduled pickups in which dump trucks take the trash and debris away.
A commercial dumpster usually has a lid that helps decrease odors, ward off pests, and keep out environmental influences. There are two classifications of commercial dumpsters.
Front Load Dumpster
This type of dumpster is loaded into a dump truck from its front, as its name implies. It typically has a top that pitches downwards to allow waste to be dumped in. The dumpster also has openings on each side intended for a dump truck to insert its forks and lift the dumpster upwards.
Offering 2 to 8 cubic yard capabilities, front load dumpsters are a helpful solution for day-to-day waste, because of their small-scale design and slanted front allows waste to be easily dropped in.
Rear Load Dumpster
This type of dumpster, however, has a slanted back and extension poles. Waste is dumped into a dump truck via hinge and winch mechanism. Instead of an overhead movement, the truck directly catches on to the dumpster and then draws the dumpster upwards for the debris to drop in.
Because of rearward slant, it is a little more challenging to dump waste into rear load dumpsters. Nevertheless, they can usually hold more waste and their taller design can fit into narrower spaces.

Common Roll-Off Dumpster Sizes
Here is a look at the common sizes of roll-off dumpsters you'll find from most providers across the country.
10-Yard Dumpsters
The usual measurements for these dumpsters are 14 feet long, 7.5 feet wide, and 3.5 feet high. Exterior dimensions can vary based on the manufacturer, but total volume always remains the same. The dumpsters cab hold up to 10 cubic yards of debris in volume. This is equivalent to 50-70 contractor style 33-gallon trash bags.
The 10-yard dumpster can hold about 2-3 tons, which equals between 4,000-6,000 pounds. For reference, a typical kitchen sink will weigh between 50-100 pounds.
15-Yard Dumpsters
Standard 15-yard dumpsters are 16 feet long, 7.5 feet wide, and 4.5 feet in height. Volume will always remain the same, but exterior dimensions could vary due to manufacturer. This size dumpster generally holds up to 15 cubic yards of waste, which is equal to nearly 100 33-gallon trash bags. 15-yards is considered a medium sized dumpster that will fit comfortably in a driveway.
Most rental companies include a covered weight limit of 2-3 tons. This is equivalent to 4,000-6,000 pounds. Be mindful of how quickly the weight of your disposal can add up. For instance, the average toilet weighs about 100 pounds.
20-Yard Dumpsters
A typical 20-yard dumpster measures 22 feet long, 7.5 feet wide, and 4.5 feet high. While exterior dimensions will vary by manufacturer, the total volume will remain the same. These containers can hold up to 20 cubic yards of material. This is the equivalent of 110-130 33-gallon trash bags or a total of six pickup truck loads.
20-yard dumpsters usually hold between 2-3 tons of waste, which equals 4,000-6,000 pounds of material. Special-use containers for debris, such as concrete or dirt, have higher weight limits.
40-Yard Dumpsters
The typical 40-yard dumpster measures 22 feet long, 8 feet high, and 7.5 feet wide. Exterior dimensions can change based on manufacturer, yet the overall volume remains the same. These dumpsters can hold up to 40 cubic yards of waste in volume, which is equivalent to that of 250 33-gallon trash bags.
A 40-yard dumpster can hold 10,000-12,000 pounds or 5-6 tons overall. The exact weight limit will depend on the type of container you rented and the specific debris. Disposal costs for specified tonnage is generally included in your rental rate.
Roll-Off Dumpster FAQs
These are the most commonly asked questions regarding roll-off dumpster rentals.
What Is The Fill Limit Of A Roll-Off Dumpster?
How Do I Return A Dumpster?
Make sure and give Blue Steel Dumpsters a call 24-hours prior to when you want the container picked up. Sometimes we can do same day pickup. Call (480) 815-8500 for details.
Is There An Extra Charge For Delivery?
Delivery fee or overweight fee may apply. Blue Steel Dumpsters never charges an additional fuel surcharge! Same day delivery is available if contacted early enough in the day.
How Much Do Roll-Off Dumpsters Cost?
On average, a 10-yard dumpster rental costs 
$350 per week
. Prices will typically range between 
$220-$580 per week
, according to 
HomeGuide
.
The average cost of a 20-yard dumpster rental is currently 
$461
. Prices will typically range between 
$268 and $657
, according to 
Dumpsters
.
40-yard dumpster rentals will run between $396-$928, with an average cost of $635. The overall price will depend on both the location of the rental and type of debris. Most all-inclusive prices will include delivery, pickup, time of rental, and a specified weight limit.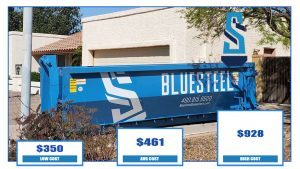 Blue Steel Roll-Off Dumpster Rentals In Phoenix, AZ
Blue Steel Roll Off Dumpsters is a Dumpster rental service company located in Phoenix, Arizona. We offer roll-off dumpster rentals for residential, commercial, and contractor projects at an affordable cost. Customers love working with us due to the seamless experience we are able to offer! Contact one of our customer service representatives to get a quote and discuss the size that suites your needs best!